Sherm Feller was inducted into The Massachusetts Broadcasters Hall of Fame on September 15th, 2011.
(Click here to see Sherm's induction)
---

"Attention Please,
Ladies and Gentlemen, Boys and Girls"
Welcome to
Sherm Feller.com
"A Boston Sports Legend"
A Voice You just Can't Forget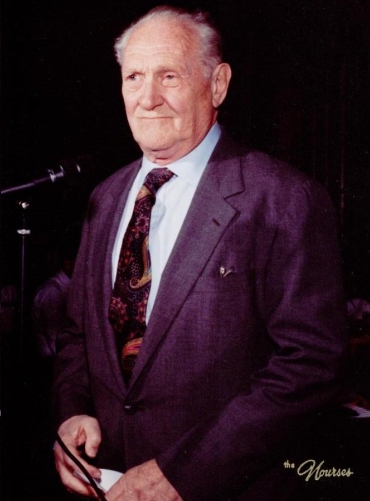 Photo Courtesy of The Nourses, Canton, MA
July 29, 1918 - January 27, 1994
Dear Red Sox Fans,
Sherm Feller, the greatest ballpark announcer in Red Sox history passed away twenty years ago. Sherm's famous "Ladies and gentlemen, boys and girls, welcome to Fenway Park" is still used on TV , radio, and even at The MLB Hall of Fame in Cooperstown. Sherm's induction into The Boston Red Sox Hall of Fame is long overdue.
Please visit www.shermfeller.com and read the many memories that people have written and consider doing the same. You can also visit the Sherm Feller group on Facebook. Keeping Sherm Feller's memory alive is a labor of love for me and a few of my close friends. Your help is very much appreciated. Thank you for your time. Go Sox!
---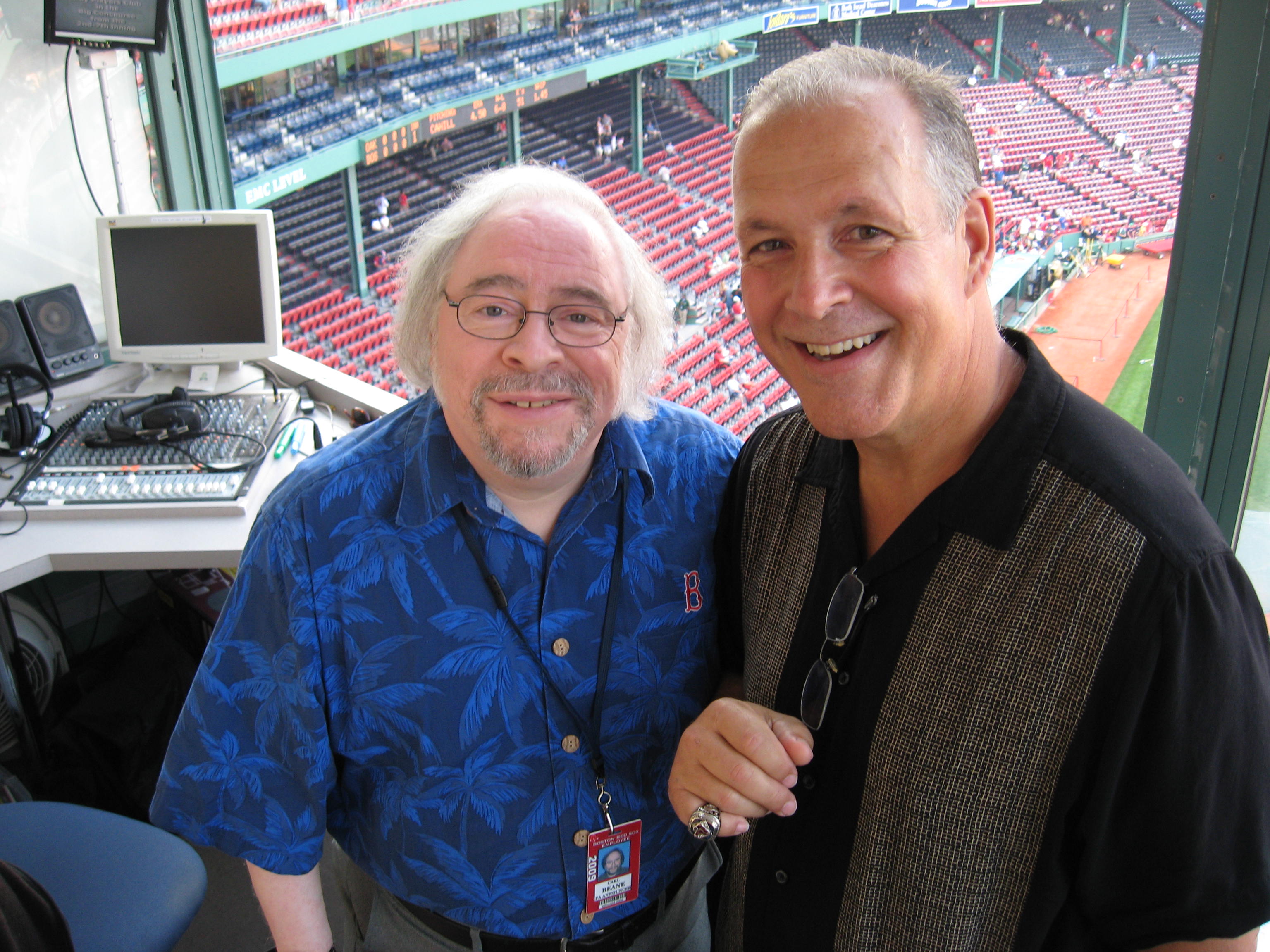 Carl Beane
September 18, 1952 – May 9, 2012
Our thoughts and prayers go out to the family of Boston Red Sox Booth Announcer Carl Beane


Read WBZ's Dan Roche's moving tribute

Carl was Sherm's biggest fan
(Note: I did not know Carl Bean until I got this very touching e-mail from him through this website.
Carl, I will be forever grateful for your support. GT)
"I'll never fill his shoes, but I do get to sit in his chair"

Carl Beane and The World Series Trophy

I just discovered this fabulous website. A very dear friend told me about this and after reading through it, I felt I had to write. I have covered the Red Sox as a radio reporter for 27 years and along the way got to know the wonderful voice I heard as a child when my late father would take my two younger brothers and me on the bus from Springfield, Ma to Fenway Park.

When I was a child I told everybody that someday I would be a Red Sox announcer. I loved listening to Sherm, then would have a laugh after every ballgame when Sherm would sit in the media room and tell those wonderful stories in that one of a kind voice. He became a great friend and in a way a mentor to me due to his involvement in radio and as the Voice of Fenway Park. In 2003, my dream came true. I now occupy that position as the P. A. announcer at Fenway. Every game, I pay tribute to Sherm. I tap his picture just outside the booth and ask him to get me through another game. I use the same greeting he did because it was and is perfect.

I always say to anyone who asks about the job, that "I'll never fill his shoes, but I do get to sit in his chair". Bob Sheppard, the long time voice of Yankee Stadium, was a good friend of Sherm's and over the years has shared stories about him with me. Mr. Sheppard had a great deal of respect for him, as do I.

I agree that Sherm should be honored in a special way, and I intend this summer to offer his name for induction into the Red Sox Hall of Fame. He deserves it and it is the right thing to do. I have already spoken to some of the Red Sox executives about this, so it will be brought up at the proper time. I hope it happens. Sherm Feller was and will always be the "Voice of Fenway Park". He was my friend, and ironically, he died 4 years to the day that my dad passed away. I miss them both very much.

Respectfully submitted,

Carl Beane
---
---
Help get Sherm Feller into
The Boston Red Sox Hall of Fame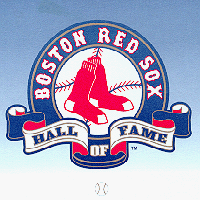 Please contact any Red Sox broadcasters, Red Sox executives, past and present media personnel, and representatives from The Sports Museum of New England and The BoSox Club. Ask them to induct Sherm Feller into The Boston Red Sox Hall of fame. Please be brief and respectful.
Click Here For More Information on the nomination process.
---
Please sign petition to help get
Sherm Feller inducted into
The Boston Red Sox Hall of Fame
Click here to sign the on-line petition
Help reach our goal of 1000 signatures.
Please share this with your friends.

---
This web site is dedicated to the memory of Sherm Feller, Boston Red Sox PA announcer for 26 years. He also wore many other hats. Sherm was a Boston Radio personality, and a music lover who wrote and produced pop songs like "Summertime Summertime", standards like "Snow Snow Beautiful Snow", and a moving Orchestral suite called "Ode To JFK". Sherm was a friend to all, and this is where some of his friends will help preserve his memory for generations to come.

I would like to thank Columnist Beverly Beckham for getting the ball rolling with her article "Sox Should Remember Sherm". Since this is a work in progress, everyone is welcome to contribute a personal story, a picture, or even an article about Sherm. Send your stories and comments to AttentionPlease@ShermFeller.com Thanks in advance for any and all contributions.
Please Take some time to look at, and contribute to the letters page now.
---


---
The Letters Page
From Mike Dean:
Reading about Bob Sheppard's passing away reminded me of Sherm Feller and his distinctive style, which I enjoyed hearing a lot (sometimes, in my baseball PA work, I will try to use that style).

So, since I never sent the Red Sox organization a note of appreciation for Sherm's work, I hope to partially rectify that with this note.
Mike Dean
From Kenneth Barr:
Sir:
I am writing to ask that Sherm Feller be inducted into the Boston Red Sox Hall of Fame. As a New York citizen of the nation, I know the value of an iconic Public Address announcer. Both Bob Sheppard (Yankee and Giants Stadium) and John Condon (Madison Square Garden) are honored for their legendary work at their respective venues. PA announcers may mean more in baseball than in any other sport, as their player announcements are official and no player may take the field without an announcement. In today's world of cheerleader PAers, Mr. Feller stands out for his clear, concise method with a unique personality. Watching Sox games, (I didn't see my first game at Fenway until 1994), I got a real kick out of his, "#27, Carlton Fisk, Catcher Fisk." as an example of his one of a kind style.
As Bob Sheppard is known as the voice of Yankee Stadium, Sherm is the unforgettable voice of Fenway Park. Please honor him in the manner he deserves with induction into the red Sox Hall of Fame.
Sincerely,
Kenneth Barr
Click Here to read more letters
---
R.I.P. Dick Bresciani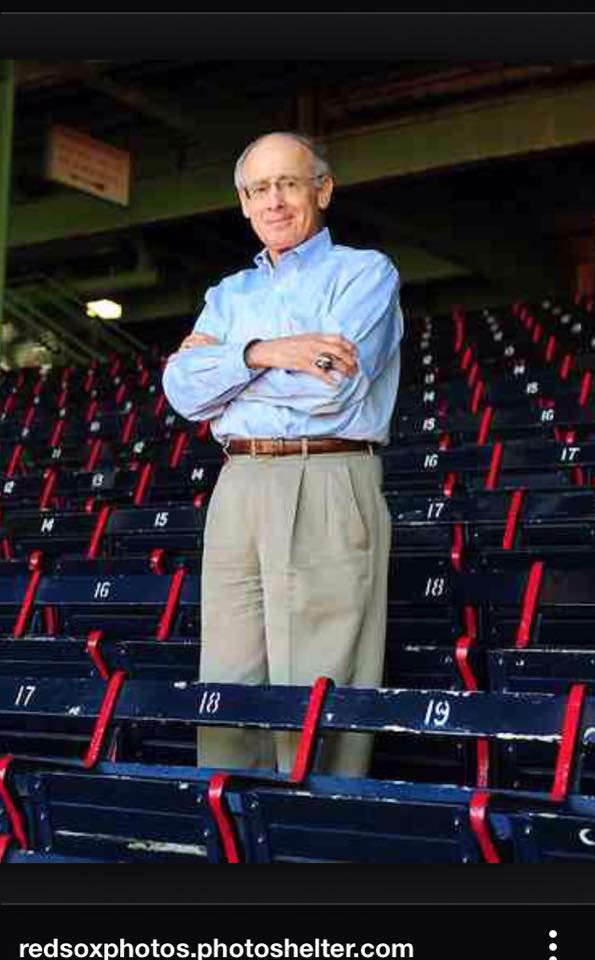 Dick had a long career with The Boston Red Sox starting as Public Relations Director in June of 1984 and was the Vice President of Publications and Archives until his passing on 11/29/14.
---
Rest in Peace Lou Gorman (1929-2011)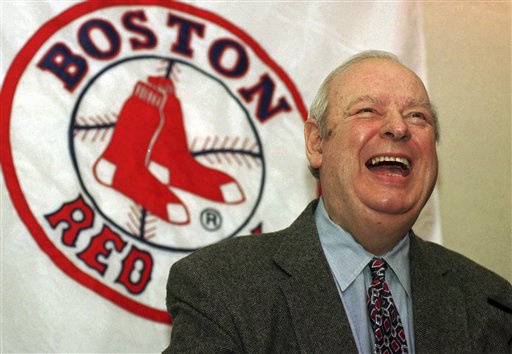 "The sun will rise, the sun will set, and I'll have lunch." -- 1987, Red Sox GM Lou Gorman when asked what might happen if he didn't reach a contract agreement with the great Roger Clemens
(Editors note: Lou Gorman was a kind a gentle man. He was extremely warm and genuine any time I met him. He was also the first person from The Boston Red Sox organization to offer a quote for this website. Thank you Lou)
---
Remembering Fenway Park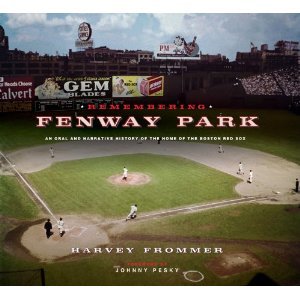 To Harvey Frommer - Thanks for including Sherm Feller in your book, and the mention on page 21 "Gary Titus is webmaster for shermfeller.com and a rabid Red Sox fan". There is also a quote from me about Sherm on page 157. I am honored to be a small part of this great book.
(Harvey Frommer's "Remembering Fenway Park" is available at Amazon.com)


---
Bob Sheppard passes away at age 99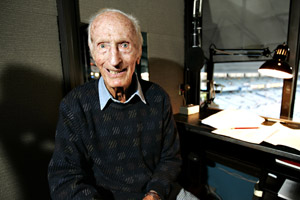 Legendary Yankees Ballpark Announcer Bob Sheppard passed away today (July 11th, 2010) at 99 years old. He and "Sherman" (as Bob called him) were very good friends. RIP Bob, please say hello to our old pal.
---
I spent a very enjoyable two hours with Jordan Rich on WBZ (1030 am) recently. If you were listening or called in to share a story about Sherm, Thanks! GT
Click here to listen to hour 1 Click Here to listen to hour 2
---
Click here to hear Sherm Feller & John Kiley "On The Air" at WROL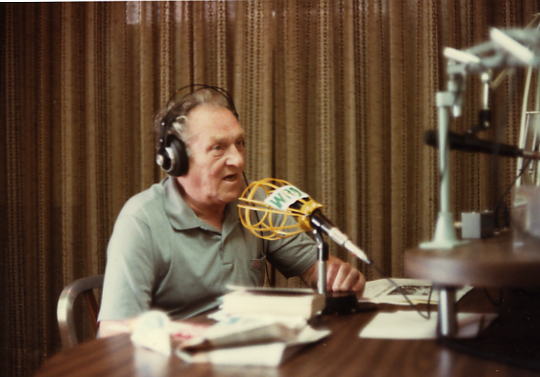 Courtesy of Ken Carberry - Circa 1975
---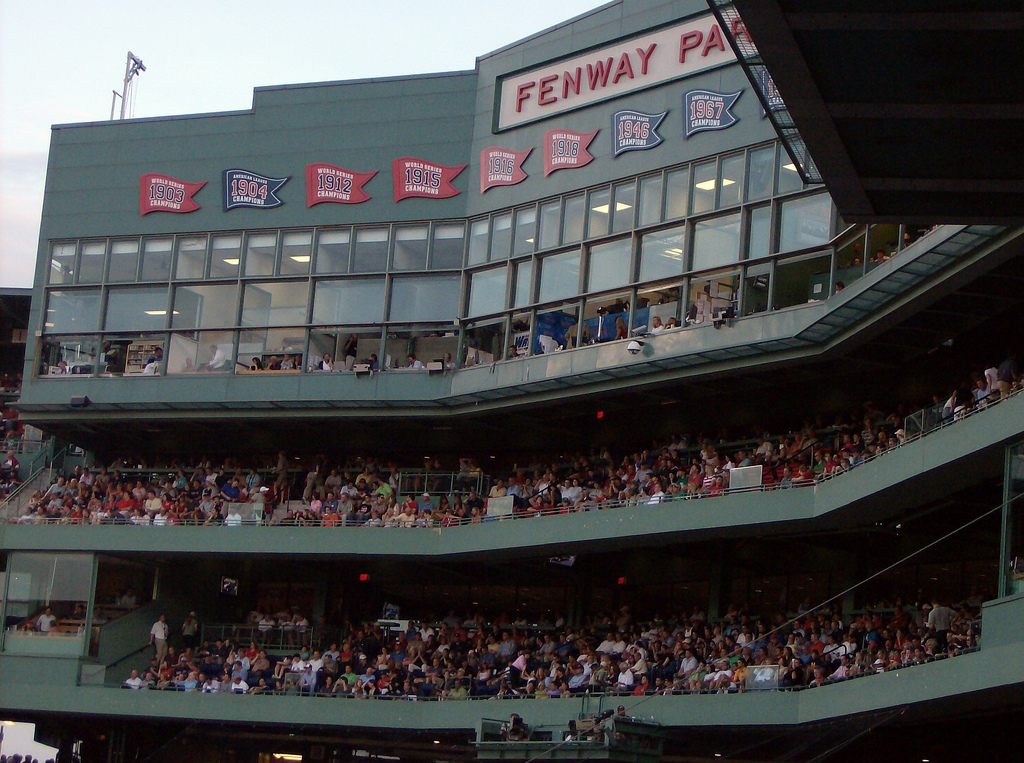 Sherm Feller Passed Away on 01/27/94
Donations in Sherm Fellers name can still be made to:
The Massachusetts Hospital School Athletic Fund
3 Randolph Street, Canton, Massachusetts 02021
All proceeds from anything sold on this page will be donated as well.

Click Here For The Boston Red Sox Home Page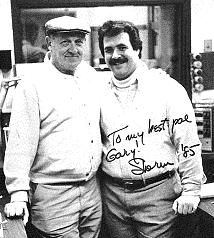 If you send e-mail, I will reply when it has been added to the site. Please Send all postal mail to www.ShermFeller.Com c/o: Gary Titus 4 Lillian Road Canton, MA 02021.
© 2014 If you borrow from this site to add to another site, please include a link. Thanks.