Thanks for the memories Sherm and John
Garry McGrath

(Note: If anyone has any audio clips or pictures please send them along. I will be happy to post them. Thanks Garry)

Hello, Just wanted to let you know that Sherm will always be the voice of Fenway Park. His echo still rings in my ears everytime I set foot in that Ball-park. I come up one of the runways and I still here that wonderful voice...Ladies and gentlemen, boys and girls, welcome to Fenway Park!!! And Now batting for the Red Sox, #8,Carl Yastrzemski,Left field,Yastrzemski !!

Frederick Royer

Hooksett NH.
From Lori McHugh:

When it comes to Sherm, every story is unique and mine is no different. When I was growing up, Sherm Feller was a household name along with the likes of Johnny Pesky, Ken Coleman, Ned Martin, Dick Stockton, Ken Harrelson and all the voices behind the Red Sox due to my Dad. My dad, Albert Torbin shared the passion of music and baseball so he just loved Sherm and told me baseball stories of the "olden days." So when Dad passed on his passions of music and baseball to me I started my own scrapbook of baseball heroes which started in 1975 with Fred Lynn.
So, as fate would have it 12 years later when I started working for the Red Sox and met Sherm for the first time we hit it off - music, baseball and Fred Lynn - his many favorite topics!!! So, when I finally met my idol, Fred Lynn, I felt I knew him for a lifetime thanks to Sherm!!!! Fred, you brought a smile to his face!

Although I have many Sherm stories to share, I will leave you with one - Only Sherm can invite you to a sold-out concert without having a ticket, pass or any notion how he would get in - but you knew to go anyway! Ken Carberry and I were driven to (Great Woods) and Sherm proceeded to drive past 2 security stop points and park us directly in front of the Back Stage Door. As we proceeded to "run" in, (with security guards chasing us) Sherm led us through corridors and doors trying to find his old friend Frank Sinatra. Sherm had no idea where to find Frank but as "Sherm's luck" would have it, we stumbled into Mr. Sinatra's private room along with 4 security guards ready to toss us out! Frank Sinatra looked up from his piano, took a few seconds and recognized Sherm and said - "Sherman Feller is that you?" - Well, thank goodness!!!! Security was told we were "ok" and old stories were told, pictures were taken and Kenny and I shared a wonderful moment seeing two old friends share a memorable moment. We will never forget that Sherm excursion - Oh, and the concert was great!!!!!

Lori McHugh
A Forever Fan of Sherm & the Red Sox

From Greg Spira:
I remember Sherm Feller fondly myself. While he may not have been the most informational public address announcer ever, his contribution to the atmosphere at Fenway Park cannot be understated. Fenway Park hasn't been the same place since Sherm died; every time I go back there and hear an announcer other than Sherm I still get a little disappointed.

My favorite Sherm Feller story, however, took place at Yankee Stadium.
The Red Sox were in New York to face the Yankees, and during one of the games Feller was visiting with Yankees announcer Bob Sheppard, though no one in the crowd knew that at the time.. Sheppard had announced the whole game as usual, but in the middle of the game you suddenly heard Sherm announce Luis Rivera coming to bat. No one was more startled than Luis Rivera, who suddenly started looking around, as if he was confused where he was - Yankee Stadium or Fenway Park. It was a small but memorable moment, reminding me of the intimacy of Fenway Park while I was in not-so-intimate Yankee Stadium.


Greg Spira
Associate Editor
ESPN Baseball Encyclopedia

(Note: If you would like to find out more about Greg Spira, do a Google search. You will find that he is a very accomplished baseball writer. Thanks Greg).

From Neal Schiff:

Hi...
Sherm Feller. Two words for him: the best!
I graduated from Grahm Junior College in Kenmore Square in 1970. I not only could see Fenway Park from my room at Leavitt Hall (now the Buckminster Hotel), but I could hear Sherm Feller. Of course, I attended many games at Fenway Park and was always amazed at Mr. Feller's full, strong and unique voice and crystal clear announcements. The best. Sherm Feller. Thanks for a terrific web site and salute.
Neal Schiff
Springfield, Virginia

From Denny Crane:
What a wonderful site you have here and what a great tribute to Sherm and John Kiley. I did not know either of these giants personally. However, they forever changed my life and provided me with endless moments of pleasure in my 100+ games at Fenway. I do remember approaching the park and hearing Sherm's booming voice inside, which seemed to be shaking the rafters at the park. At times I wondered if the whole thing was going to fall down. Once inside I couldn't wait to hear Sherm's announcements and John Kiley's beautiful rendition of the National Anthem, played as a joyful march, like only Kiley could play it. It made me so proud to be an American to listen for the "Attention Ladies and Gentlemen....." and then hear the National Anthem. What I especially liked was this was a no nonsense park. No music during the innings, no unnecessary announcements, just real baseball in a real park. My last game at Fenway was just after Sherm died and I knew then it would never be the same. I saw the giantron in the outfield, the advertising throughout the park (do they really need the extra revenue) but No Sherm and no John. Since their deaths the park has instituted cheezy recorded music between innings which we can hear any day on the radio. It will never be the same and I have not been back since. God bless these two giants among men and I hope they are watching the games from above.

(Note: After seeing the name Denny Crane on an e-mail I had to write back and ask if he was a ball player, and if this was his real name. I am happy to say that there is a real Denny Crane as you will read about below, and not just the fictional character on "Boston Legal". Thanks for writing Denny).
Hi Gary. I am not a player, just a big fan. However, I was the organist at the old Pittsfield Red Sox in the double A league at Wahconah Park, in Pittsfield back around 1972-1974 when Pat McKernon owned the team. I tried to imitate the way John Kiley played the Anthem but was never quite successful. The PA announcer at the park was Glen Russo. He tried very hard to sound like Sherm but couldn't quite get there also. So you see you could say there was a "minny Fenway" in Pittsfield at the time. The official scorer was Roger O'Gara who was a long time sports reporter for the Berkshire Eagle and the score board operator was Jan Tavalin, the news reporter for Pittsfield radio station WBRK. And my name is Denny Crane.
From Terry:
Hello, my name is Terry and I live in Maine...I grew up in Mass (30 minutes outside of Fenway Park in Framingham)......My dad took me to many, many Red Sox games and I clearly remember the famous voice of Sherm Feller............I LOVE THE BOSTON RED SOX AND FENWAY PARK and I must admit................My favorite voice of Fenway is and always will be "Sherm Feller's". Thank you so much for creating this website.........................I am 41 years old now and I still miss very much hearing his voice at Fenway.....................

From Karen Dever:
I began working for the Boston Red Sox during the summer of 1985. My first job at Fenway was to keep track of the count in the Control Room. I quickly found out that my job was really to remind Sherm of what the actual count was. We would be forever, laughing as he would have the count 3-2 on the green monster and it might really be 2-1. Sherm would receive a kind warning from Dick Bresciani, with a loud tap to the window that separated Sherm and the rest of the control room from the old Press Box.
Shem knew EVERYONE, we never knew who we would get to meet during a game. One of my favorite memories is my brother Ted coming to visit me in the control room. He was sitting behind Sherm on the stairs in the control room, listening to one of the many stories we were treated to over the countless nights at Fenway, when my brothers all time idol, Bobby Orr, walked in to shake Sherms hand. Sherm could see the look of awe in Teds eyes and introduced Teddy to Bobby Orr. It was a fantastic moment. There were thousands of fantastic moments and memories with Sherm.
I was fortunate enough to work with Sherm and the other great people of the control room at Fenway Park for a number of years. Sherm was a true and special friend to all of us. He made every moment extraordinary. Whether telling a historical anecdote or an extremely dirty joke, we were treated to it all. Those who know Sherm know some of the anecdotes I mean (including the Mayflower docked in Plymouth).
The best times at Fenway were the times with Sherm, even those simple times when he would sneak into my office to use the phone or catch a nap, minutes before game time. Everyone would yelling and looking for Sherm and he'd smile and mischievously say okay dear, wake me up in five minutes. He was a professional and he knew his job, but he did like to watch people sweat.
I miss my late evening (or extremely early morning phone calls) when Sherm just wanted to talk and I'd hear the loud tone of his hearing aide, before I'd hear his voice. I miss the Irish bread he'd deliver with flourish, or the strange gifts from the pawn shop, the framed photos of Sherm with his friends or memorial cards of dignitaries that he would bring to me.
Sherm treated my husband and I to special gift on our wedding day. He announced the entire wedding party, including the first time Dan and I were introduced as a married couple. I know Sherm graced a few other members of the control room with this honor and I still cherish the videotape of him at my wedding.
Sherm was by far the funniest person I ever met and probably the most caring. He lived his life to the fullest and made sure everyone around him felt the magic. I'm glad I was a part of his life and blessed that his memory remains a part of mine.

Karen Dever
From Ken Carberry:
It's been almost 11 years. Sherm died the night of the 1994 Baseball Writers Dinner, and I was supposed to be with him. He was buried on Superbowl Sunday, unable to lay a bet. Sherm was surrogate Grandfather, Uncle and little brother to me. I think of him every day. Not really, but if I said anything different, and he was able to read it wherever he is, he'd give me a whack.

My first job in radio was producing the Sherm Feller Show on WROL. That was 1978 and I was 20 years old. We go back even farther. It was 1967 and the Sox were on the way to the Pennant. Sherm was working for my father, Ken Carter, at what was then WRYT. One lazy summer day, a tall , loud man with thick glasses pulled in our driveway. It was Sherm. He loved kids, and I was 9 years old and a baseball fan - that was enough for him. "Gimme your baseball glove and I'll get it signed for you," he bellowed, "who's your favorite player?" (He always bellowed, the P.A. was barely necessary.) The next day I had a Jim Lonborg autograph on my glove. Not just his name, but "To Kenny, best wishes, Jim Lonborg." He went on to win the Cy Young Award, and I had a friend for life.

Sherm had bypass surgery the winter before the 1979 season. He was very ill, and we thought we would lose him. He called the folks at Fenway and asked that they hire me to fill in for him as P.A. announcer until he was healthy enough to come back to work. April 1979 found a new voice at Fenway Park. Me. I stayed there as "the other guy" on the P.A. for many years. The real fun was just sitting next to Sherm for every game. I learned about baseball (Freddie Lynn was the best player since Ted, and never give 'em anything to hit on a 3-0 count), gambling (if he lost, it was my fault), women ("If I was 10 years younger and had three more teeth..."), Chinese food (Four Seas in Chinatown, ask for the "Special Tea"),deli-food ("I won't tell you where I got this pastrami, because then everybody would go there") and life in general ("I may be Jewish, but when I drive by a church I bless myself...just in case you guys are right").

I'm lucky enough to still work with many people who knew and loved Sherm. We tell stories, repeat jokes and offer the occasional imitation, all in honor of Sherm. My office is adorned with Sherm memorabilia including a Sherm signed baseball that flew through the window one night (5/14/80) and a photo Sherm took of Frank Sinatra and me backstage at a concert. Most precious of all is the photo of Sherm in my kitchen in the summer of 1990 holding my infant twins on his lap and grinning a warm loving grin. As we near the anniversary of his death, that's the Sherm I choose to remember most. Sherm Feller. My pal.

Ken Carberry
Boston
January 2005
From Kurt Carberry:
Sherm hosted a live radio talk show on my family's radio station in Boston. Sherm also set up his office with us, and was a bigger distraction in an office than anyone could possibly image. He would talk so loudly on his phone, his hear aid was always sending a piercing pitch, and I don't want to go into the bathroom stories... He was the proverbial "bull in the china store" but everyone loved this bull! Sherm was born with a special charm. Sherm's radio show was only aired over the summer months. He would signoff in the fall and come back in the spring with "As I was saying…" Sherm would interview priests, poets and politicians, and sometimes all at the same time. Sherm's radio show was like an open house holiday party and he never knew who was coning in or what he was going to talk about until the mic was turned on. Sherm had Orville Redenbacher in the studio popping popcorn. He must have put 10 pounds of kernels in a popping machine and filled the entire studio with popcorn. He had Lassie come in and actually interviewed the dog, not the trainer. To this day better radio has not been produced. Sherm was also my friend. He was there when I graduated school, got married, had children and when my wife was sick, he would visit with food and gifts… all of it stolen. Sherm would take corn from a street vendor and give the guy a Ted Williams baseball in return. It was Sherm's autograph, not Ted's but that did matter. He traded more than an Indian Chief. But, his lust for life was so genuine, so real, that you would give him what you had to him anyway. Sherm worn a cross and the Star of David, he would say, " I want to cover all bases" Sherm was everyone's friend.
Kurt Carberry
From Jordan Rich:

Sherm Feller was larger than life. He was truly the quintessential 'Damon Runyon' character. Sherm lived life to the fullest and drank from its cup with gusto. He was born to do radio and use that amazing voice of his. Sherm was also chosen by the powers that be up there to bring laughter and fun to people of all ages and backgrounds. He'd hang out with Sinatra for a weekend, dine with Congressman Joe Moakley, drive cross country with pro ball players, mingle with the doorman at the Wang Theatre and play cards in some of the most remote spots on the planet. Sherm was in all sense of the word a character. One whom I often think about, one whom I miss. Now, a lot of folks in our business imitated Sherm and that classic style of his at Fenway Park. Orioles' broadcaster Jon Miller often sat in to do an inning or two as Sherm, while Mr. Feller tended to other important duties such as buying hotdogs, placing friendly wagers, etc. I, on the other hand, continue to hold the dubious title of "the guy who did an impression of Sherm away from the microphone." I entertained many of Sherm's friends including Harry Ellis Dickson and Fred Lynn with the impression. Imitation is indeed the sincerest form of flattery. With Sherm, there was so much life, so much that made him interesting, that it was easy to develop the impression. I guess all of us would like to be a little more like Sherm. Live your life to the fullest and drink from that cup. And don't be afraid to eat Chinese food at 2:00 am. Sherm Feller --- an original!

Jordan Rich
WBZ

(Note: Kurt, Kenny, and Jordan, Thanks for your very personal memories of Sherm. I am proud to call you my friends. GT)
Hello again,
Tim Willis writing again to email you a couple of pictures I found when I produced the Sherm Feller Show in the early 80's.
We did the broadcast from Stuart Street in Boston...actually Ken and Jordan worked on the 4th floor at the time.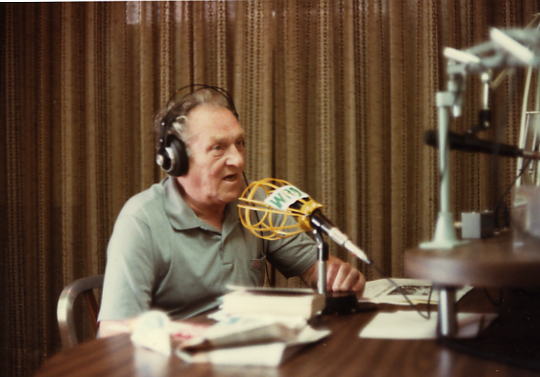 These pictures capture the true nature of Sherm. As a funny side note...the yellow screen around the microphone is actually a bulb protector from an outdoor construction site courtesy of Ken Carter...(owner of WROL). Sherm would have a tough time keeping his distance from the microphone and when you get too close to a microphone with a voice like Sherm it just doesn't work. So one day Ken put this yellow screen around the microphone to prevent any more closeness.
Thank you for the site...it is great coming back to read the memories...lots of fun to hear from Ken and Jordan. One day I'll get you the audio from the Sherm Feller Show with Marie Cole.
Take care
Tim Willis
Clear Channel Springfield MA
From Mike Koenig:

I just found this site and got a tingle in my spine and goose bumps. Sherm was more than an amazing person. His qualities and what he meant to us can not be put into words. He became friends with my aunt and uncle around 1980 (which is how I came to know him). I used to go to games with him with my best friend Tim Smyth and sit next to Sherm or he'd send us up to the roof box seats. As my dad passed in 78, it was that much more special to have a figure like him take interest.
I just had to put in a short note for now and will be coming back to this. Sherm, I know you're watching over us and hopefully reading these wonderful thoughts. I felt I never thanked you properly so let me say now, THANK YOU, KIND SIR!!! You know why. I now live in Las Vegas and do not get back to Boston often, but think of the joy you brought to all of our lives all the time.
Mike Koenig - Las Vegas
From Julie DiCastro:
My name is Julie DiCastro, Sherm was a regular at our house. He spent a lot of time with Michael and Timmy Smyth. My son Joseph DiCastro, Jr was to go to Fenway for the first time with Michael his brother Scott and I think Timmy, but that morning Joseph had a grand mal seizure and was in the hospital. When Joseph woke up (age 7) he jumped out of the hospital bed and said, sorry I have to go now Sherm is waiting for me. Sherm was nearly a daily visitor at my house and at my father-in-laws store, Willow Brook Farm Stand in Stoughton Ma. Sherm lived at Stone End apartments for quite a while.
Sherm had come into my father-in-laws store and asked if my father-in-law Joe DiCastro knew of a nurse in the neighborhood who could help him out. He had just returned from Chicago where he had a cataract removed. That was the beginning of a wonderfull friendship, one I will never forget. I put his eye drops in and our family became one of the lucky people to meet, Mr. Wonderful. Sherm had great personality and was the kindest man I ever knew. My daughter Jamianne is Autistic and Sherm loved her no matter what, Jamianne could be aggressive at times, Sherm would just smile and bring her another present.
My son and my nephews were so enriched by the experiences Sherm gave them, they will always remember him. Joseph and Michael would go to his apartment and clean up the papers once a week, however, nothing really ever looked picked up. My late husband Joe and I went to dinner and the symphony many times with Sherm and his special guests. My son Joseph got to have dinner with Fred Lynn, and we have a picture to prove it. Or at least I hope I still have that picture. My daughter enjoys tearing pictures and I had to hide them, so I am not sure if I still have that picture.
Please let me know if there is any way I can help, Sherm Feller's name needs to live on somewhere at The Ball field.
Thanks for this opportunity to write and send my love to my friend SHERM FELLER.
From Paul B:
I just thought I'd let you know that I'm also a big Sherm Feller fan. My most cherished memories of visiting Fenway, in the 60's and beyond, was to hear his voice. I would always make sure I was in my seat, prior to the player introductions of each team's starting lineup. The sound and tone of his voice should be enshrined in Cooperstown. Everytime I visit Fenway, which isn't often these days, I long for the sound of Sherm.

You know what they say, "imitation is the sincerest form of flattery." One of my favorites, and I rehearse it often....."Leading off for New York, Number 20, Willie Randolph, Second Base."

Best of luck in your continued efforts to get Red Sox Management to appropriately honor and recognize Sherm, as one who made a major contribution to the legacy of Fenway Park. You certainly have my support.

Sincerely,

Paul B.
Westborough, MA
From Matthew Wintringham:
So the Red Sox finally won. They have erased 86 years of frustation in 4 quick games. They have made all of us lucky fans who are alive to experience it think of family and friends who are no longer with us. Of course, I instantly thought of my Uncle Sherm. Sherm was not a typical Red Sox fan. He ALWAYS believed. He was never pessimistic about their chances. I couldn't understand how he actually thought they would win each and every year. And if he were alive today, he would have expected this. He would have come to me after the clincer and said "See, I always believed." And today Uncle Sherm, I want to tell you that I believe too. I believe that you are enjoying this up there as much as we are down here!
"Ladies and Gentleman, boys and girls, welcome to Fenway Park...home of the World Series Champion Boston Red Sox"...
From lindsay Wintringham:
a day to be remembered. I am sherm's great niece lindsay wintringham. I am writing to share my joy and excitment on this long awaited vicotry. I have never experienced the satisfaction of wanting something so bad, and finally getting it. beating the yankees and sweeping the cards is only the begining. the curse has officially been reversed! I remember asking my uncle if he believed in god; his reply was always that he did... just in case. well I know for certain that sherm had a front row seat for the series and I heard his booming voice: "they won it all! the red sox are world champs!" may all boston fans enjoy this victory together, and may sherm's memory and presence be alive now more than ever! GO REDSOX!!!!
lindsay Wintringham
From David Jardin
As a 39 year old to me one of the names synonymous with the Red Sox is Sherm Feller. Ted, Yaz, Rooster, Rocket, Pudge, Pedro, Remy, etc ..Sherm Feller and John Kiley.
Sherm Feller's mike should be retired as should the keyboard of John Kiley.
Sherm is part of the fabric of Sox history.
David Jardin
(Note: Thanks for the post David. I attended the Boston Red Sox Hall of Fame dinner this year and hope to attend it again in two years to see Sherm Feller and John Kiley inducted. Any e-mails or letters sent to me in support of this will be forwarded to the Boston Red Sox.)
From Pete Walsh:
Funny thing, when remembrances just pop into your head and you stomp out to Google to find out what happened to some of those "bigger than life" people you meet in your youth. Who knows why I suddenly wondered about Sherm? Maybe the onset of my 66th birthday makes me reflective about my youth. Anyway, I was a pimple-faced kid of eighteen/nineteen just entering broadcasting as a new control room operator at WVDA Boston. I started out on the morning shift the sole beneficiary of Lady Luck's whim. I filled out a WVDA employment application describing my desire to be a control room operator/announcer the day after the office secretary threw out all the other previous, old applications. Two days later, the morning control room operator quit. Timing is everything! I got hired. Previously, for months, I had come up to watch Sherm at work and just knew radio was what I wanted to do for a career and this station was where I wanted to work. I was thrilled to be part of this world.
That was in '56/'57 when Sherm was holding court nightly on WVDA with what I amusingly refer to as "flexible sign off time." In other words, when he got bored, it was time to go home. I loved the casualness of this rogue announcer in an otherwise precise industry of network synchronization, etc.
Regretfully, I never worked as an engineer on his show, and I can't remember the name of the guy who did, but can clearly see his face in my mind. Later, I worked the Speed Anderson Show that immediately followed Sherm's, and I know it ticked him off that someone would actually buy the midnight to six time slot and cut into his air time.
I was often the butt of his witty cracks as I walked into the control room and looked into the announce booth and could see Sherm through the fog of cigar smoke. He was a very funny guy, and I never took offense from his ribbing. What the Hell.......the rookies always get razzed, right? I also remember the dichotomy of sweet Judy Valentine and Sherm. What a pair.
I was sorry to learn of Sherm's demise so long ago, but he lives in our collective memory.........and for all different reasons (that way,..... he never gets bored). Time to sign off.
Peter Walsh (retired)
Palm Springs, Ca
From Tim Willis:
My first paying radio job was at 950 WROL in Boston. Unknown to me when I was hired that I would be working with the legendary Sherm Feller. I produced his talk show when he came back from Spring Training to begin another season at Fenway. Sherm was not only one of the most generous people I met but also went out of his way to bring me into the booth at Fenway during games, treat me to late night dinners in Chinatown with complementary transportation in his oversized Chevy Caprice while providing great insight to his musical writings including "Summer Time Summer Time", and Francesca. For all of his achievements he was also one of the modest people I have ever met. One day from his desk he pulled out the sheet music to Francesca and signed it, "To my best pal Tim…who thinks I'm a Star!..Sherm. In my mind he was a star with celebrity status for all his contributions. He never thought so.
Some of my great memories were sitting at the controls on the other side of the glass at the radio station while Sherm talked about anything that came to mind. Having in studio guests like Fred Lynn and Marie Cole would always amaze me. Big names coming to 950 WROL to be interviewed….have a warm conversation with Sherm Feller. After the show it was off to Fenway for Sherm.
I still have some tapes of the Sherm Feller radio shows I recorded back in the 80's and pictures I took while he was on the air and they are truly a keepsake. Perhaps one day they'll be on this web site. I was very fortunate to begin my radio career and have the distinct honor of working with Sherm Feller.
Tim Willis
Clear Channel/Springfield MA.
(Note: Thanks for the great letter Tim. What a great Christmas present. Happy Holidays. GT)
From Bonzer:
As a kid I had several Sherm Feller written tunes among my 45rpms. I'd
play them over and over again. I loved hearing him on the radio. Sherm
did mornings on WEZE with Bill O'Connell and later afternoons at WILD.
I've heard that WBZ radio tried to hire Sherm for nights but WEZE would
not let him leave.

What a thrill for me to finally meet the legend at (retired Red Sox
pitcher) Jerry Casale's resturaunt in New york City in 1988. He told
stories and more stories. Before his death in January of 1994 I spoke
with Sherm about appearing by phone on a radio program I was doing in
Miami on WMRZ. He promised he would be available for the show. The day
Sherm was suppose to appear was the day he died. Sherm was one of a
kind, not fancy, just a down to earth good feller.

Bonzer
From Russ Butler:
I go back a bit listening to Sherm, first on WCOP 1150AM in 1949-50 and visiting the studios in Copley Square. Sherm had an evening show following the seriously presented classical music program by Martin Bookspan (now the commentator of "Live From Lincoln Center" on PBS.) When just on the air, Sherm said "Hey, thanks for a great show, Marty!" as he was quickly leaving the building.
The other time I visited Sherm in a radio studio was in 1953 at WVDA 1260AM in The Hotel Bradford, (then owned by the Vic Diehm Associates who purchased 1260AM from WNAC, who went to be at 680AM, which was formerly WLAW.) Smoking his cigar, relaxing in front of the mic, wearing a fedora hat and taking phone calls, he was on top of his game - funny, improv quick wit and interesting to listen to.
Not to forget, Sherm's lovely wife, Judy Valentine is still in the Boston area. She was a popular vocalist with the top, local bands. And, Sherm wrote "Francesca" an instrumental with a quiet, Latin beat recorded in 1950-53 by Stan Kenton's Orchestra.
Just a few of my thoughts about a remarkable talent, Sherm Feller, who, with Norm Nathan were quintessential broadcasters in Boston. Incidentally, the current PA announcer for the Oakland A's at the Network Associates Coliseum "sounds" very much like Sherm Feller!!
Russ Butler (Actively retired from 40+ years in broadcasting!)
From Bob George
Growing up as a youth in western Massachusetts, the Red Sox and Fenway were an integral part of my life. I watched them on TV religiously, and went to Fenway 1-2 times a year to see them in person. The Fenway experience is baseball nirvana, the best such feeling in all of professional sports.
Unfortunately, with the passing of both Sherm Feller and John Kiley, and with the onset of commercialization (Coke bottles, ads, and the like), Fenway is simply not the same. You still love the place and root for the Red Sox, but it just doesn't have the magic and elegance it had with Feller and Kiley. Those two men gave Fenway a veneer which made it the best place to watch a pro sports game in the entire nation.
Feller, simply, was the best. His unique delivery was copied by everyone, and so much fun and comforting to listen to. Like Kiley at the organ, he was at the top of his profession. He's been dead for 8 years now, and he is still missed. I simply loved listening to him at the Fenway mike, especially the intro to Kiley playing the national anthem.
Now we have a fellow western Mass. person, Carl Beane at the mike, and he seems destined for a long and distinguished career as Sox PA announcer. But Feller was one of my favorite reasons to come to Fenway, along with Kiley. As I sometimes say to myself, "This is definitely not the Feller-Kiley Fenway we all once knew".
Thanks for this website,
Bob George
http://www.bossports.net
(Note: You will enjoy Bob's website if you are a real Boston sports fan.)
From Henry Santoro
Shern Feller was quite a fella. He was, and always will be, my favorite Red Sock. His voice could be heard deep into Kenmore Square and filled not only Fenway Park, but the entire Fenway neighborhood the moment he cracked the microphone. And what a job he had! He worked at the best bar in Boston.
Henry Santoro News Director WFNX Boston 101.7 FM
From (The One And Only) Tank
In my youth, Fenway was the magical kingdom and Sherm was the man behind the curtain. He was the voice of baseball Valhalla, and I always envied his job.
TANK Sports Director WZLX Radio Boston
From Gil Santos:

"Long before Sherm Feller became known to Red Sox fans as that booming voice saying "ladies and gentlemen, boys and girls", I used to listen to Sherm
as a DJ on WCOP radio which was a big favorite with teenagers when I was
growing up...I'm pleased that Sherm is being remembered on this site for his contributions to broadcasting."

Gil Santos
WBZ AM 1030 Sports

(Note: Gil Santos is the incredible radio voice of The Super Bowl Champion New England Patriots and can be heard calling the play by play on NFL Films Super Bowl Champions DVD and Video Tape. Thanks for the memories Gil.)


From Chaz Healy:
Hi Gary.
After reading Ken Coleman's obit and seeing NOTHING about his relationship with Sherm, I thought about doing a websearch for Sherm--which led me to you.Sherm was great friends with my Dad--Dan Healy (Joe Moakley's longtime law partner). They were both music buffs that would travel together to see Frank Sinatra and other music notables.
As a kid, I got to spend some time quietly sitting in the announcer's booth along with Sherm. He often had me "Deliver a message" to him when I got out of school in Roxbury in the late 60's. I remember one day skipping classes and going to Fenway Park. Sherm admonished me for skipping out school, then got me Hot Dogs and Cokes while I watched the game from high above the stands.I was also fortunate enough to weave my way through the "Green Monster", run the bases, and sweep the dugouts--as Sherm would tell the employees: "This kid's alright. Let him help out for a while..."
As an adult, I remember Sherm coming over to my family's house with a BIG shopping bag FULL of Chinese food (his favorite). The only drawback were those HORRIBLE cigars that he smoked. We'd all enjoy a great meal and listen to Sherm as he related stories about his exploits with musicians AND sportsmen. Later, he'd fall asleep on the couch. When we woke up, he'd be long gone--'till the next time he'd stop by with something for the family.
That was the type of guy that Sherm was. He always gave, but NEVER asked, took, or allowed anyone to repay a favor that he had done. At the most, all I could ever do for Sherm was to wash his car.
We were deeply saddened at his passing nearly 10 years ago. At his service, it was my first opportunity to wear a Yarmulka (hope the spelling's correct!). I kept it as a rememberance of a wonderful guy. Another Great at the service, also a close friend to Sherm--Congressman Joe Moakley, along with my Dad, have joined him. Perhaps they're all talking sports right now.
And I can imagine his booming voice at the 'Pearly Gates': "Now entering (pause), Bob Jones (pause), Accountant (pause), Anytown, USA (pause), Bob Jones."
Sincerely, Chaz Healy
From John Rafferty
Sherrm Feller was the greatest of all time. Both he and John Kiley were a staple in Fenway Park - as legendary as the Green Monster itself. Part of the excitement of going to Fenway as a child was to hear his voice boom over the antiquated PA system.
Sherm should be honored by the Red Sox. I have to believe if the current fan friendly ownerrs are as true to the organization as they seem, they will honor him. As Johnny Most's microphone was hung at the Boston Garden by the Celtics, so too should Sherm's be retired near the Red Sox honored numbers in right field - for all to remember for all time.
Today, it still warms my heart to hear his voice on commercials and internet sites, welcoming the ldies and gentlmen, boys and girls ot Fenway Park. I have tried over the years to imitate his voice. Each season I announce the playoffs at my kid's little league in Sherm's distinguished manner.
I hope the Red Sox will do the right thing, and I hope that Sherm will live on in the heart's of Red Sox Nation for years to come.
John Rafferty
Lowell, MA
From Michael DeGrandis
I am of the, "Now batting, number 14, the left fielder, Jim Rice. Rice, now batting," generation. Like everyone else, I miss Sherm's booming voice. I have been living in Arlington, Virginia (outside Washington, DC) for nine years now. I go back to Fenway every year, and as much as I love watching the game, I am always disappointed that I'm not greeted by Sherm or introduced to the players by him. Thank you for maintaining a great web site dedicated to such an important man in Red Sox history.
Sincerely,
Michael DeGrandis
From Brian Bergland
I visit Fenway a couple of times a year and always looked forward to hearing a historic voice announce the Red Sox, He connected today's players to those player of my youth, when i heard him announce Nomar i could only think back to hearing Yaz or Fisk being introduced. Having his voice etched in my mind will always be special, when hearing a new rookie being introduced today there will only be one voice that i will hear, sherm fellers..
Brian Berglund
DieHard Red Sox Fan
From Matthew Wintringham
I consider myself one of the luckiest people alive for I was the great nephew of Sherm Feller. And let me tell you, he was indeed a great uncle! I remember growing up and having him come to my house for an unexpected dinner. What a treat that was. The stories he told! And the manner he told them in. When he told stories, EVERYONE listened. His stories were legendary. I always remember the looks on peoples faces when he walked into a restaurant. Everyone just lit up. They couldn't wait to hear a Sherm Feller story. And he never failed to deliver. Whether it was about driving the wrong way down Storrow Drive, or about a night on the town with Frank Sinatra, Sherm knew how to deliver. He was a performer in the truest sense.
I idolized my uncle. I loved his lifestyle. He was living his dream. His sister, my grandmother once criticized him saying that he was paying more for the cab ride to the park than he was getting paid to do the game. He retorted "Are you crazy, I have the greatest job in the world. I get to watch every Red Sox game for free!" If we all could only be so lucky.
I only hope that one day, I too can live that dream, and sit in the seat where my great Uncle Sherm used to sit.
And now, up there in the sky, Sherm can finally announce the greatest Red Sox of them all... "Now batting, number 9, the left fielder, Ted Williams. Williams, now batting."
Matthew Wintringham
From Lindsay Wintringham
I am sherm's great niece. I heard from my brother matt about your web page. I am very pleased that you have taken the time and effort to honor such an outstanding character. please let me know what we can do to help. we still have sherms redsox seats and I miss him more and more at each game. good luck!!
Lindsay Wintringham
(Note: Thanks Matthew and Lindsay, I was thrilled to get your e-mails. Please write and tell us more about the family side of "Uncle Sherm" when you have time.)
From Ed Brickley

It has been my great privilege to serve as P.A. Announcer at Fenway Park for the past five years. I'm now into year number six, and hopefully I'll be able to continue in this role for the remainder of this year. As you know, there is a completely new hierarchy of ownership at Fenway, and there's the very definite possibility that they might bring a new voice to the P.A. microphone. If so, so be it.

Unfortunately for me, I never met Sherm Feller, but I certainly knew of him and like millions of Red Sox fans over the years enjoyed immensely his marvelous announcing abilities, his uniquely wonderful voice, and his superb delivery. I assure you that I will never be confused or compared with Sherm because of he was incomparable and simply the very best! As I told one of the newsmen who interviewed me back in 1997, I am thrilled beyond description to sit in Sherm's chair, but I am merely keeping it warm until the next Sherm comes along. It is a phenomenal experience!

Sherm Feller was quite a remarkable person. You are to be commended as you strive to preserve Sherm's memory, because Sherm Surely deserves to be remembered. The feeling of love that Red Sox fans had for Sherm is an extraordinary testimony to how special a person he was, and to his uniquely marvelous public address style and delivery.

As long as the Red Sox exist, Sherm will not be forgotten. He was bigger than life and, I'm told, he would bring sports and show biz giants into his announcing booth. People like Bobby Orr, Frank Sinatra, and Ted Williams. He was on first name friendship basis with innumerable celebrities of his time. At the entrance to the control room at Fenway Park is a marvelous picture of Sherm, along with a tastefully done place card regarding Sherm's career as the Red Sox P.A. Announcer. I truly wish I knew him. He was a great man. I wish you good luck and success in your venture.

Sincerely,
Ed Brickley
Former Red Sox PA Announcer

(Note: Ed, Congratulations on a long run as Red Sox booth announcer. Best wishes to you in the future. Ed Brickley is the first person to hand write me a personal letter about Sherm. It was three pages long. Thanks Ed. I'll put it in my desk draw next to Sherm's letters that also mean a lot to me.)
From Joe Lydon:

My fondest memories of growing up were of being at Fenway when I was a
kid. I can just close my eyes and think back to the wonderful, tingling feeling of anticipation I had right before the ballgame started. That old burnt out cigar smell, the buzz in the crowd , and then that unforgettable voice. "Attention Ladies and Gentlemen, these are the starting lineups for todays game between the_______ and the Boston Red Sox. Even to this day , whenever I hear Yaz' name, I can hear Sherm saying, "Now Batting for the Boston Red Sox, number 8, Yastrzemski, left field, Yastrzemski". There are so many phrases, I would have to sit with you for an hour to relive these fine moments.
Thank you Sherm Feller and friends. Sherm will live on forever in the memory of every Red Sox fan that visited that grand old ballyard from the 60's through the 90's.

Joe Lydon
forever a Red Sox Fan

From Annette Wiswall

I always listened to Sherm on the radio - loved it so much. He always had great guests on his show. I remember him always talking about a Chinese
restaurant in downtown Chinatown and I remember going there with my husband - it was the best. Now the name of it slips my memory. The one other thing I remembered was Sherm having the handwriting analyst on
his show. I remember sending in a postcard and I remember calling and he was right on target with my handwriting. Too bad there aren't more out there like Sherm and Norm Nathan - they were the very best and they are very much missed.

A radio person,
Annette Wiswall

From a fan

Going to Fenway just isn't the same since Sherm passed away. It's kind of a missing part of the game that can't be replaced, just the memories of all the games I went to and the echos of greatness! I went to Fenway last Friday and just smiled, of the memories of childhood, growing up, and listening to the echos from the past.

Mark Jamieson
From Henry Taves
It was so nice to discover your site celebrating this great man.

Sherm was a very important part of the best classic ballpark
environment in America. This environment consisted of:
1. Wonderful Fenway Park, the classic American ballpark, unmarred by advertisingexcept for the Jimmy Fund sign in deep right.
2. Organist John Kiley,
who so masterfully provided an auditory backdrop to fill the time
between innings, not to fill time between pitches as is now done most
places.
And, 3. Sherm Feller, the man behind the classic deep voice
so filled with definitive authority. Sherm's voice was one of a kind, one memorable years after he left the mic. It was the perfect voice to announce Yaz, Lynn, Rice, and other favorites especially during rallies. But even when he merely said "Base hit!", or announced Kiley's impending rendition of the National Anthem, you could not find a better voice.

I had the pleasure of meeting him once, after I convinced a roofbox
usher to let me enter the scoreboard/organ/announcing section of the
pressbox. I just had to tell Sherm how much I admired him over many
years.

Thanks for providing this forum in memory of a great guy.

Henry Taves
From Jim Gonsalves:
HI JIM GONSALVES FROM THE SF BAY AREA WRITING TO SAY HOW WONDERFUL YOUR TRIBUTE SITE IS ON THE GREAT SHERM FELLER.I HAD THE PRIVILEDGE OF CORRESPONDING WITH SHERM AND HE WAS SUCH A NICE SINCERE HUMAN BEING. I STILL HAVE A NICE AUTOGRAPHED PICTURE HE SENT ME AND THE GREAT ENCOURAGEMENT HE OFFERED IN ME IN MY PURSUIT OF A P-B-P CAREER.I RECALL TELLING SHERM THAT MY DAD GREW UP IN LOWELL AND SHERM RELATED HOW THATS WHERE HIS RADIO CAREER BEGAN!
JON MILLER THE CURRENT VOICE OF THE GIANTS WAS VERY CLOSE WITH SHERM.I KNOW SHERM RELATED HOW MUCH HE HATED TO SEE JON LEAVE BOSTON FOR THE ORIOLES .
I ALWAYS LOVED LISTENING TO BROADCASTS FROM FENWAY PARK AND HEARING SHERM'S DISTINCTIVE AND UNIQUE STYLE.SHERM FELLER IS AND ALWAYS WILL BE A LEGEND IN THE LAURELS OF BASEBALL HISTORY.HE IS SORELY MISSED BUT SHALL NEVER EVER BE FORGOTTEN BY HIS FANS.

JIM GONSALVES
HAYWARD,CALIFORNIA
From Dan Shaughnessy
Good luck with the site Gary. I loved Sherm. Shaughnessy
"Pass it on"
Send your e-mail now

This site will never be used for profit, nor will your e-mail address be re-used or sold. If you send e-mail, I will reply when it has been added to the site. Please Send all postal mail to www.ShermFeller.Com c/o: Gary Titus 4 Lillian Road Canton, MA 02021